2000 FREE Credits use PROMO CODE 'kangaboomer '
BONUS FREE 600 Credit PROMO CODE Hidden in the main members area page
You must LOGIN to HUNT FOR the EXTRA 600 FREE CREDITS TOTAL 2600 CREDITS
Send your mail instantly get guaranteed views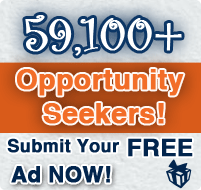 ONLY GMAIL ADDRESSES ACCEPTED
We use an LFMVM script so we have good security to help stop cheaters , we monitor our system daily for people trying to join with duplicate accounts and temp bounce email addresses or autoresponders. No yandex email accounts are allowed..
Only a gmail address is allowed. If you get caught and can't give a reasonable reason why you have lots of accounts then you could get banned for life, and not from just us ,you will be banned from all sites that use an LFMVM script..so not worth the price of cheating.

You Must Login atleast once a month to maintain your membership
NO FORWARDERS, BOXBE, NO YAHOO, HOTMAIL, AOL, Bit Bounce ..NO Autoresponders they will be removed immediately !

YOUR ACCOUNT WILL NOT BE ACTIVATED USING ANY OTHER EMAIL ADDRESS OTHER THAN GMAIL
Verification email can take 5 minutes to arrive
check your spam inbox if it doesn't


*IMPORTANT TIP* if your confirmation of joining mail doesn't arrive quickly
simply login with the username and password you chose "using the login link above "
add the email address you signed up with and click resend
* "you will find it arrives quickly to your GMAIL inbox" seems the 2nd request arrives quicker than the 1st.
Your 2000 Credit promocode is in your welcome email
Any issues signing up contact support@kangaviralsiolomails.com
[Your referrer is Reijo Sikio]
Copyright © 2018. KangaViralSoloMails.com. All rights reserved.